Why Us?
Let us break down why we do what we handle moves so well, and what makes Ben Hur the best choice for your needs.
Get a Free Moving Quote
Moving can be difficult enough and there is a lot to think about when you select a moving and storage company. Let us break down why we do what we do so well, making Ben Hur the best choice for your needs.
Customer Care
At Ben Hur Moving and Storage we pride ourselves in our customer care. We believe that every situation is different and deserves the highest level of our attention no matter what the volume or price. Our relocation specialists come up with a plan that meets all of your moving needs ensuring you get the best quality for the lowest rate. Our office staff is always available and our team is available 365 days a year to get you where you need to be.
Our team will treat your belongings as if they are our own. Our skilled movers are masters of wrapping and boxing and will carefully handle all your items. Our clients are amazed and how quickly we are able to go without breaking, denting, scratching, or forgetting a thing. We know how to handle delicate items with skill and care. Our operations department supervises every aspect of the move and the on-site foreman will ensure that your every need is met.
Our moving trucks are equipped with the latest in safety features and moving equipment making the transfer of your belongings smooth and careful. Every member of our team is trained and dedicated to the cause. Our employees wear our uniform with pride and know that each individual customer has a different need and story.
Competitive Rates
We at Ben Hur Moving and Storage believe that developing long-term relationships is much more important than maximizing short-term profits. There is a reason we have customers return to us again and again for their moves. The combination of our low rates and high quality will ensure that you get the best team of movers for your money.
We let you choose the pricing option that suits you best. We have several different pricing plans including a flat price or working off of competitive rates based on hour, volume, or weight. We are more than happy to provide an all-inclusive binding estimate that guarantees the rate in writing. This means you'll always stay on budget and the price won't move a dime.
At Ben Hur, we invite you to call other companies, find out their rates, and be sure of your choice in our company. We know we can beat them with our low prices and great service.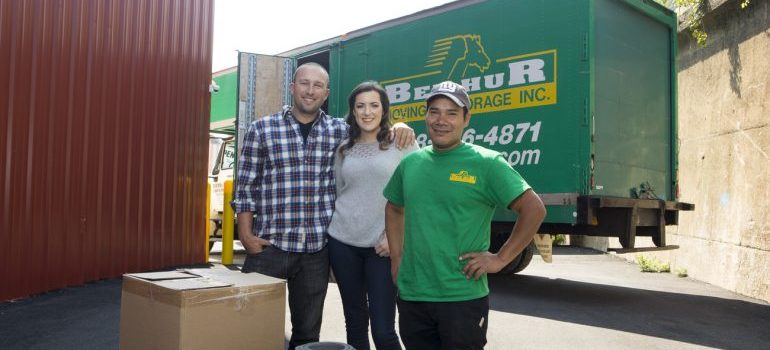 Anytime, Anywhere
We know it can be tough to schedule a move, which is why we are always punctual. If something comes up to delay our arrival we will always let you know of a change. We keep in constant contact with you during move day so you have no doubts about the location of your belongings or when they will arrive. Our team is at the ready to ensure that your items arrive early or on time to the scheduled location.
We serve our customers 24 hours a day, 7 days a week. We have no extra charge for holidays or weekends because we know that you need to move when it works best for you. Let us work with your time requirements and requests and our team will outperform the competition.