Local Movers NYC
Opt for an easy relocation with some of the best local movers NYC provides - Ben Hur. Contact us today for a free quote!
Get a Free Moving Quote
Moving locally carries as many challenges as any other relocation. Especially so in metropolises such as NYC, where chaos is the natural order of things. This adds another level of complexity and, thus, difficulty to an already daunting task. But, there is a way to turn it all around with the help of Ben Hur Moving & Storage NYC. As one of the best local movers NYC houses, we can help make your relocation not only effortless – but thoroughly enjoyable, too. So, don't hesitate. Contact us today and head into your new life brimming with energy and enthusiasm.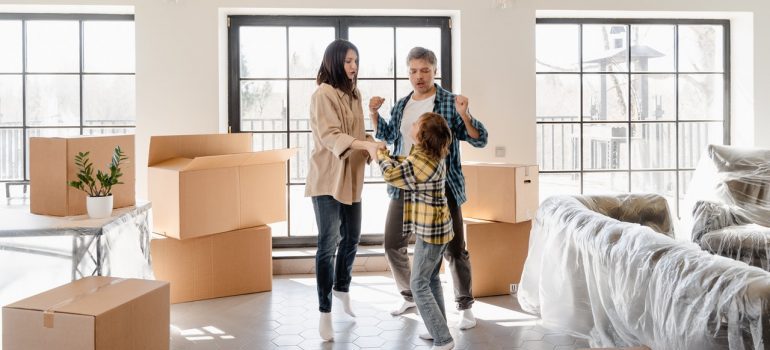 30 years of experience – at your disposal
Since our founding way back in 1991, Ben Hur Moving & Storage had one simple goal. We wanted to ensure the smoothest transition for each of our clients. Today, when we're among the leading local moving companies NYC houses, that goal didn't change. It turned into a mission, that we're committed to with all our hearts. Needless to say, our operating method reflects this philosophy to the fullest:
Our moving services boast exceptional quality while remaining affordable;
We're willing to adapt our approach and solutions to fit the unique requirements of your relocation;
Transparency is our major trait. It's why we offer an all-inclusive binding estimate to all our clients;
Our movers Manhattan are trained, experienced, and well-equipped to handle any relocation challenge.
With Ben Hur, you're getting more than an extra set of helping hands. You're getting a team of local movers NYC respects, completely dedicated to your seamless transition. You're getting support and guidance, convenience and reliability – all the way, every step of the way.
Moving your home without fear is possible with local movers NYC
Moving a home counts among the most stressful events in a life of an individual. And, it's not only because it's effort and time-heavy. But, also, because there's an added emotional weight that accompanies the ordeal. Every item, every piece of furniture, every bit and bauble – they all have meaning beyond the physical or financial. Each one is imbued with memories, feelings that make your place a home. It's this meaning that gives the place a familiar warmth and sense of security. And, it's what makes preserving their integrity not only necessary – but essential for your well-being during the move.
As such, you need local movers from NYC that care for your belongings. A team that won't view them as simple objects, in need of just bagging and tagging. But, rather, as meaningful parts of your life. You can have that team in Ben Hur Moving & Storage. Through our 20+ years of service, we learned everything there is about moving homes, and the tribulations that follow. The experience and skills we acquired translated into what is one of the best residential moving services in the NYC Metro area. And, today, they're all at your disposal to help you move your home with utmost safety.
Get your business up and running again without risking prolonged downtime
Emotions are the primary driving force behind residential relocation. Commercial ones, on the other hand, are almost an entirely different story. Here, efficiency and effectiveness play the most crucial role. And, for one reason only: downtime. Or, to be more precise, the need to counter and minimize it in any way possible. That is something our local movers in Manhattan NY know full well.
As a business owner, you already know of the impact prolonged downtime can have on your company. There's the ever-present financial aspect, that's the first to take a hit and suffer. As our Wall Street movers can testify, the longer the cessation of activities continues, the more evident and severe the consequences.
Yet, that's not the greatest peril inefficient relocation carries. What's more dangerous is the negative impact on your reputation. Prolonged downtime can inconvenience your clients, or even create problems for them, depending on the type of business you're running. And, loss of credibility is far more difficult to remedy, than the financial one.
So – don't risk it. Not when you have the prime commercial moving services and local movers NYC offers so readily available. Our teams helped thousands of business owners move their HQs all over the NYC Metro Area. From small storefronts to entire corporate buildings – no job is too big or small for us. We approach them with the same fervor and utmost professionalism. Therefore, with us, you can count on a swift resolution of your relocation, without the loss of quality or unnecessary delays.
Save time and keep your mind at ease with packing services local movers NYC offer
Packing is one of those moving tasks nobody's looking forward to. It's tedious and time-consuming while taking up all of your focus and attention. But, what truly makes it nerve-wracking is the fact that you can never be completely certain your belongings are safe. Even if you've read and watched dozens of packing guides, it still takes time to hone those skills to perfection. And, when moving, time is always scarce. As such, this seemingly simple task becomes even more stressful, as it leads to rushing. Rushing leads to mistakes, and mistakes cause costly errors that can jeopardize the safety of your belongings. When you weigh it against our moving cost estimate, you will see that packing done professionally pays off in more ways than one.
Our NYC local movers offer an easy fix to this problem, too. By opting for our packing services, you're ensuring your belongings get the care they deserve. We use quality packing materials and proven methods to ensure their safety, both during preparation and transport. So, no more sleepless nights. No more anxiety waiting to see what's broken as you unpack. With us, you'll have peace of mind, knowing that your items will reach their destination intact.
You're a phone call away from swift and easy NYC relocation
NYC is the world all on its own. No matter which part of it you move to, you're bound for amazement and new opportunities. So, choose to focus on them. Choose to dedicate your time and energy to all the good things this grand step carries. Not only because you should – but because you can. Some of the most reliable local movers NYC provides are within your reach. Give Ben Hur Moving & Storage a call today and start your new life the way you deserve – free of stress and difficulties.